The low particle generation capability of
cleanroom dust-free wiper
is a critical feature that makes them suitable for use in controlled environments such as cleanrooms, semiconductor fabs, and pharmaceutical manufacturing. This capability is achieved through several design and material considerations:
Material Selection: Cleanroom wipers are typically made from synthetic materials that are engineered to minimize shedding of particles. Common materials used include polyester, microfiber, polypropylene, and other low-linting materials. These materials are chosen for their ability to reduce lint and particle generation compared to natural fibers like cotton.
Lint-Free Construction: Cleanroom wipers are designed with a lint-free or low-lint construction, which means they are less likely to shed fibers or particles when used. The manufacturing process involves using techniques that reduce loose fibers and contamination.
Sealed Edges: Many cleanroom wipers have sealed or heat-cut edges to prevent fraying and particle release along the edges. This edge sealing process creates a more uniform and particle-free wiping surface.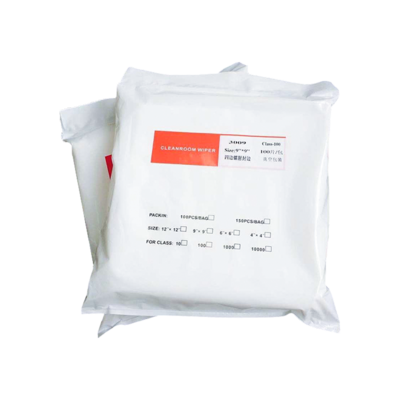 Double-Bag Packaging: Cleanroom wipers are often double-bagged in cleanroom-compatible packaging to maintain their cleanliness during storage and transportation. This helps protect the wipers from external contaminants.
Quality Control: Reputable manufacturers of cleanroom wipers implement stringent quality control measures. This includes testing the wipers for particle counts and other contaminants to ensure they meet the required cleanliness standards. Wipers that do not pass quality control are rejected.
Sterilization: In applications where sterility is essential, some cleanroom wipers undergo sterilization processes to eliminate microorganisms. Sterilized wipers can be used in aseptic cleanrooms, and the sterilization process itself is designed to minimize particle generation.
Packaging and Handling: Proper handling and storage of cleanroom wipers are crucial for maintaining their low particle generation capabilities. Users should follow strict cleanroom protocols when using and storing wipers to prevent contamination.
Particle Testing: Cleanroom wipers may be subject to particle testing and certification to verify their cleanliness. This testing assesses the wipers' particle counts and ensures they meet the required cleanliness standards for their designated cleanroom class.
The level of particle generation in cleanroom wipers can vary depending on the manufacturer and the specific product. Users should select cleanroom wipers that match the cleanliness requirements of their cleanroom class or industry standards.
The low particle generation capability of cleanroom dust-free wipers is crucial to maintaining the integrity of cleanroom environments and preventing contamination of sensitive processes, equipment, and products.