The lint-free structure of
cleanroom dust-free wiper
serves several important functions in controlled environments like cleanrooms:
Minimizing Contamination: The primary function of a lint-free structure is to minimize the release of lint and particles from the wiper material. In cleanrooms, even the tiniest particles can lead to contamination, affecting product quality, yield, and the integrity of sensitive processes. Lint-free wipers are designed to shed minimal to no lint or loose fibers when used, thus reducing the risk of contamination.
Maintaining Product Quality: In industries such as semiconductor manufacturing, pharmaceuticals, and electronics, the quality of the final products is of paramount importance. Lint-free wipers help maintain the high quality and cleanliness standards required in these industries by preventing the introduction of foreign particles that could compromise the integrity of products or processes.
Protecting Sensitive Equipment: Cleanroom environments often house sensitive equipment, such as semiconductor wafer fabrication tools or laboratory instruments. Lint and particles released from cleaning materials can damage or clog this equipment, leading to costly downtime and maintenance. Lint-free wipers help protect these critical assets by minimizing particle shedding during cleaning.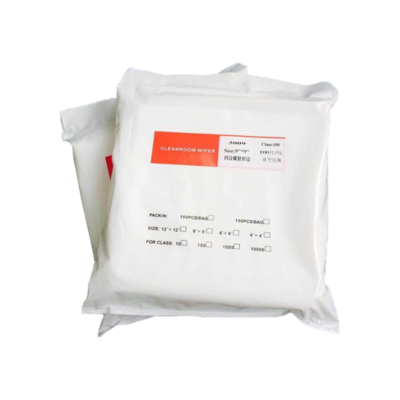 Enhancing Cleanroom Purity: Lint-free wipers contribute to the overall cleanliness and air quality within a cleanroom. By using materials that do not shed lint, cleanroom operators can maintain the required level of cleanliness, reducing the need for additional air filtration and cleaning processes.
Complying with Industry Standards: Many industries have strict cleanliness and contamination control standards. Lint-free wipers are designed to meet or exceed these standards, ensuring compliance with regulatory requirements. They are often chosen based on the cleanroom class and specific industry standards that must be adhered to.
Reducing Recontamination Risk: Once a surface or tool has been cleaned with a lint-free wiper, the risk of recontamination is reduced. This is crucial in environments where even the smallest particle can have significant consequences, such as in semiconductor cleanrooms or biotechnology labs.
Preventing Damage to Delicate Surfaces: In addition to cleanliness, lint-free wipers help prevent surface damage to delicate materials, substrates, or components, ensuring they remain free from scratches, abrasions, or other surface imperfections.
The lint-free structure of cleanroom dust-free wipers is essential for maintaining the cleanliness, purity, and quality of products and processes in controlled environments. It helps prevent contamination, equipment damage, and recontamination, all of which are critical in industries where even minute particles can lead to significant problems.